PRISONER SUPPORT & SOLIDARITY
Note this is an old page.
Visit the new AF website: http://www.afed.org.uk
This section aims to highlight the importance of prisoner solidarity by means of links to prisoner support websites. As well as supporting class struggle prisoners 'at home', in many countries the state is more repressive than it is in UK, and anarchists find it very hard to organise at all. Some have to go into exile in other countries to avoid imprisonment. So the link between support of asylum seekers, refugees and prisoners cannot be overstated.
The AF is directly involved in prisoner and asylum seeker/refugee support. If you are interested in writing to activists in prison, please get in touch. You may also find info about demos and other activities in support of prisoners via our News Diary page. On-line articles about prisoners and political repression can be found in Organise!, the AF's magazine, and resistance, the our monthly bulletin. Please visit these pages to buy a supporter subscription for a prisoner.
LAST UPDATED JAN 2009. Be aware that addresses and circumstances may have changed if reading older news.
Visit the new AF website: http://www.afed.org.uk.
---
NEWS
NEW: COMMUNITIES OF RESISTANCE prison abolitionist group formed against Titan prison building programme. Communities of Resistance was formed in December 2008, with a website http://www.co-re.org/ and you can also join the mailing list there. They say:

'Communities of Resistance is the prison abolitionist organisation, with the current compaign of No Titans! which aims to stop titan prisons being built in Britain.

We know that prisons do not make our communities safe. Basic necessities such as food, shelter, education, health and freedom are what really make our communities safe and secure. Our immediate goal is to stop prison expansion in the UK, by preventing corporations and government from constructing any new prisons, especially the proposed "Titan" prisons.

Our long-term goal is to build a vibrant and broad-based movement to end the violence of incarceration. We aim to develop effective, community-based solutions to social problems that do not rely on models of imprisonment. Our work is connected to broader global struggles against inequality and powerlessness. We are working to end incarceration and foster healthy communities built on social justice.'
---
OLDER NEWS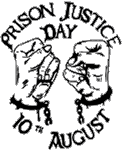 Prisoners' Justice Day 2008
August 10th is prisoner justice day. A day in which those in prison can have a day of mourning & remembrance for others who have died while locked up in prison. Prisoners around the world also use the day for protesting against conditions. For a good history of Prisoner justice day and why it falls on this day see this Canadian anti-prison website.
This year the No More Prison campaign are asking for activists to join together outside HMP Styal to show solidarity with the women locked up inside and to remember those who have died in women's prisons all over the country.
It will also be a tribute to Pauline Campbell, who's only daughter, Sarah, died in Styal prison. Pauline campaigned fearlessly against deaths in women's prisons as well as advocating the clo- sure of all women's prisons.
Demo to start at 1pm outside the gates of the prison. If you would like to get involved please contact:
Pikiebub2000 [at] yahoo.co.uk www.alternatives2prison.ik.com
---
LINKS
Here are links to other prisoner related pages that we know about, which themselves may have further links. Link suggestions welcome.